CALENDAR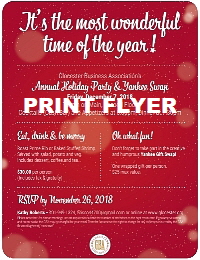 GBA ANNUAL HOLIDAY PARTY & YANKEE SWAP!
Friday, December7, 2018
6:00pm
The Tavern on Main (second floor)
Chepachet, RI
Featuring:
Cocktails (cash bar) & Appetizers at 6:00pm

Full Course Dinner at 7:30pm — Choice of Roast Prime Rib or Baked Stuffed Shrimp,
served with Salad, Potato, Vegetable & Dessert

Business Meeting with Election of Officers & Board Members

Yankee Swap (one wrapped gift per participant; $25 maximum value)
$30.00 per person (this includes tax & tip).
Reservations are required on or before November 26th.*

Reserve Online... click here
or...
Contact Kathy Roberts at 401-949-1324 or fiasco44700@gmail.com.
The Nominating Committee Wants You!
Please consider volunteering your time and expertise to the Glocester business community by serving as an officer or board member, or by volunteering for a GBA committee. Elections will be held on Friday, December 7, 2018 at our Annual Holiday Party, so be sure to call soon so that your name can be added to the slate! Contact Kathy Roberts at 949-1324 or Kevin Kitson at 568-1111.
*Please note that, for dinner meetings, we are required to submit the number of attendees to the host restaurant. If you reserve a meal and do not show, the GBA may be charged for your meal. Therefore, we reserve the right to charge for any expenses incurred by the GBA for meeting/event "no shows."
---
GBA Meetings are usually held on the fourth Thursday of each month, often at a GBA member restaurant. Members and guests enjoy a great meal and mingle with fellow business owners. We share ideas and take part in the many community events and projects featuring GBA involvement.
We're listening!
Suggestions for program items are always welcome. Please contact Kathy Roberts at 401-949-1324 or fiasco44700@gmail.com with your program ideas.
Promote Your Business!
Please bring business cards and promotional materials to distribute at our Member Meetings.
Join the Raffle!
Members are encouraged to bring an item representative of their business for a raffle. Proceeds help the GBA support our endeavors in the community. Items may be dropped off at Brown & Hopkins Country Store (Attn: Liz) or brought to the meetings. Or contact Liz Yuill at 568-4830 if you're interested in donating a raffle item.
Help Your Neighbors!
Please bring a canned good or two to help stock the Glocester Food Pantry. We'll deliver!
Help Your Four-Legged Neighbors!
Please bring any of the following to help the Glocester Animal Shelter. We'll deliver!
Pupperoni or Snausages
Bully Sticks, Hooves, Pig Ears
Large & Medium Dog Beds
Cat Treats
Kitten-Specific Food
Small Cat Beds, Tents
"Yesterday's News" Cat Litter
Thinking of joining?
Please come and see what the GBA is all about! New members always welcome! Prospective members are cordially invited to attend our meetings!